Premium and Luxury Waiheke Accommodation
Are you looking for Waiheke Island luxury accommodation with that 'wow' factor? You've found it: the best premium and luxury accommodation Waiheke has to offer is right here. Whatever your definition is of Waiheke luxury, there's something for you. Perhaps you'd like luxury Waiheke accommodation in a lodge or estate? Or something a little smaller, but where all those little details are tended to with perfection?
The luxury holiday houses listed below all have something unique about them. Perhaps they have a private swimming pool or spa pool. Many have expansive decks with breath-taking sea views. Most of the luxury accommodation Waiheke Island offers is architecturally designed, with chic, modern interiors. Enjoy your Waiheke Island vacation in the finest possible style.
Find your perfect luxury Waiheke accommodation
Click on a property to see more information and to book online.
5-star luxury accommodation
These are the properties we consider to be 5-star standard, with the ultimate in comfort and luxury: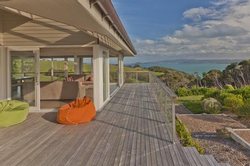 Baywatch Estate
Woodside Bay, Waiheke Island
NZ$2,700 - NZ$2,700 per night
Guests: 6 - 12
Bathrooms: 0
Bedrooms: 6
Arrive by helicopter for total privacy and luxury...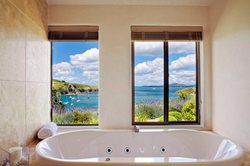 Kowhai Suite
Matiatia, Waiheke Island
NZ$395 - NZ$545 per night
Guests: 2
Bathrooms: 1
Bedrooms: 1
Quality B&B with sea views...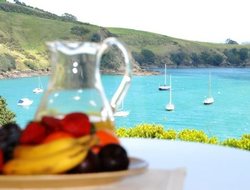 Pohutukawa Suite
Matiatia, Waiheke Island
NZ$395 - NZ$545 per night
Guests: 2
Bathrooms: 1
Bedrooms: 1
Enjoy the finer things in life, then this is for you...
4-star premium accommodation
The properties we consider to be 4-star are far above your normal 'bach' standard and will provide you with a stylish and comfortable holiday experience: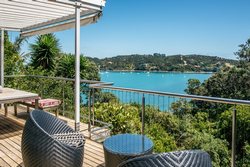 Bach on Burrell
Oneroa
NZ$310 - NZ$395 per night
Guests: 1 - 2
Bathrooms: 1
Bedrooms: 1
Romance and seclusion. Sit in the spa while overlooking the bay....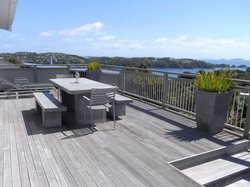 Bayview Retreat
Oneroa, Waiheke Island
NZ$545 - NZ$675 per night
Guests: 4 - 9
Bathrooms: 2
Bedrooms: 4
Great northern views. Plenty of sun. ...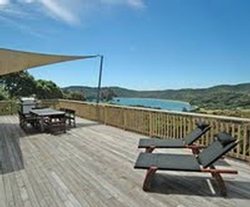 Baywatch Cottage
Whakanewha, Woodside Bay
NZ$350 - NZ$495 per night
Guests: 3 - 7
Bathrooms: 2
Bedrooms: 3
Seclusion, north facing, lots of sun great family holiday...
Beach Barn
Rocky Bay
NZ$195 - NZ$395 per night
Guests: 3 - 6
Bathrooms: 1
Bedrooms: 3
Stylish, modern holiday home close to the water.....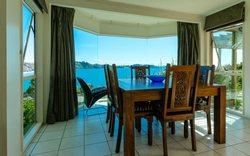 Belle View
Onetangi
NZ$495 - NZ$795 per night
Guests: 3 - 6
Bathrooms: 2
Bedrooms: 3
Sea Views in your face !!...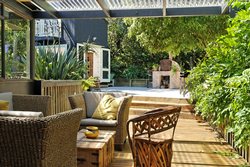 Casamatta Waiheke
Wilma Rd, Palm Beach
NZ$550 - NZ$700 per night
Guests: 5 - 11
Bathrooms: 2
Bedrooms: 4 - 5
Have fun with the family in this well appointed home...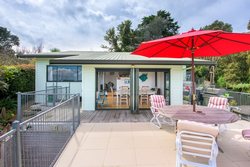 Castaway House
Little Oneroa, Waiheke Island
NZ$275 - NZ$420 per night
Guests: 2 - 4
Bathrooms: 2
Bedrooms: 1 - 2
Great for 1 or 2 couples...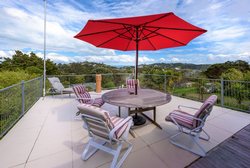 Castaways
Little Oneroa
NZ$345 - NZ$670 per night
Guests: 4 - 8
Bathrooms: 0
Bedrooms: 2 - 4
Romantic, airy and bright. Sit in the spa while the sun goes down...
Golden Sands
Sandy Bay
NZ$470 - NZ$695 per night
Guests: 3 - 8
Bathrooms: 2
Bedrooms: 3 - 4
Walk down the drive way on to the beach...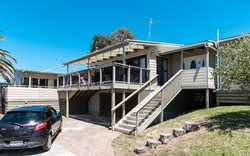 Island Panorama
Onetangi, Waiheke Island
NZ$395 - NZ$595 per night
Guests: 4 - 9
Bathrooms: 1
Bedrooms: 4
...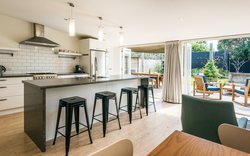 Island Time
Oneroa, Waiheke Island
NZ$325 - NZ$450 per night
Guests: 3 - 6
Bathrooms: 1
Bedrooms: 2 - 3
...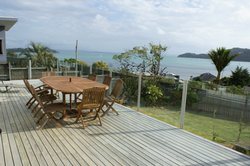 Kiwi View Cottage
Oneroa, Waiheke Island
NZ$275 - NZ$425 per night
Guests: 2 - 8
Bathrooms: 3
Bedrooms: 2 - 3
Sea views, sunsets, close to the beach and Oneroa....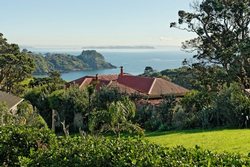 Northern Beaches
Palm Beach, Waiheke Island
NZ$545 - NZ$745 per night
Guests: 4 - 12
Bathrooms: 2
Bedrooms: 4
North facing, sea views, close to 2 beaches...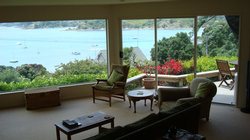 Oneroa Vista
Oneroa, Waiheke Island
NZ$270 - NZ$385 per night
Guests: 2 - 4
Bathrooms: 1
Bedrooms: 2
Views over Oneroa and walking distance to all the shops, restaurants, bars and beach...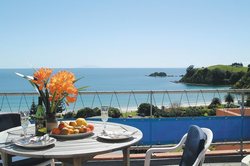 PALM BEACH LODGE
Palm Beach
NZ$1,100 - NZ$1,650 per night
Guests: 8 - 20
Bathrooms: 5
Bedrooms: 8
...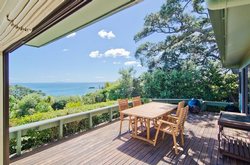 Palm Beach Retreat
Palm Beach, Waiheke Island
NZ$345 - NZ$500 per night
Guests: 3 - 13
Bathrooms: 2
Bedrooms: 3
Family rental home, great views...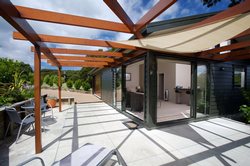 Ridge Studio
Te Whau Ridge, Waiheke Island
NZ$230 - NZ$230 per night
Guests: 1 - 2
Bathrooms: 1
Bedrooms: 1
Quiet, romantic, secluded getaway...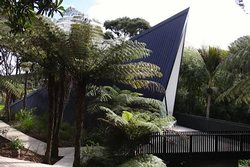 Tent House
Palm Beach
NZ$325 - NZ$475 per night
Guests: 2
Bathrooms: 1
Bedrooms: 1
Architects Private Retreat on Waiheke...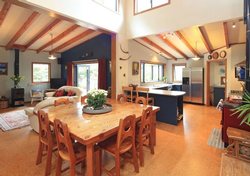 Waiheke Escape
Palm Beach, Waiheke Island
NZ$750 - NZ$795 per night
Guests: 5 - 12
Bathrooms: 2
Bedrooms: 5
Architecturally designed, spacious, 5-bedroom house ...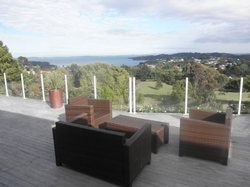 Waiheke Views
Palm Beach, Waiheke Island
NZ$1,150 - NZ$1,750 per night
Guests: 8 - 18
Bathrooms: 6
Bedrooms: 6 - 7
Great for family reunions, weddings, team building and or conferences...
Here's what guests say about our luxury Waiheke accommodation:
"What a fantastic location and accommodation. We will be back for sure! Thanks for the hospitality. " Kristy Redfern Jul 2017
"Beautiful property and the simplicity to access from the ferry terminal makes for a easy stay."
Blair Sims Apr 2017
"Awesome views. Use of car an added bonus! Loved it " Kay Gunston May 2017
Excellent property with beautiful views of the bay. Owners very pleasant and helpful. High quality breakfast each day was a very nice touch.
Brendon Swallow, Dec 2013
"What an amazing find... the view, the food supplied and access to the loan car was an unexpected bonus. Highly recommend "
Peter, Jul 2017

"Thanks for keeping the room well stocked. We enjoyed the ambience of the unit and the view it provided." Jason Fong Apr 2017

"Romantic, secluded place with lovely views. We arrived early, expecting to just drop our bags off and go explore, but the room was already ready. Complementary wine and beers were in the fridge, along with some snacks. Wifi was available too. Some guides recommended hiring a car, but if you just want to get to Oneroa then it's a 20 minute walk" Matt Duncombe Mar 2017
"Perfect location just a short walk from the ferry terminal. Views looking back towards the city were amazing. The hospitality throughout was exceptional. The ability to use the Car and see more of the island on Friday was perfect. View looking back towards the city was amazing " Timothy Schaeffer Mar 2017
"Amazing relaxing location. Will definitely stay here again " Colette Parkinson Mar 2017
"An ideal spot for a romantic getaway. Perfectly located a short walk from the ferry terminal. Very well appointed and spacious room." Ralph Redoubt Feb 2017
"Very good. Amazing view. Great surprise to have complimentary food and drink in the fridge. Couldn't have asked for anything better" Dan Nemeschansky Feb 2017
Great Place, amazing view , very helpful host who went above and beyond to make our stay easy and a pleasure... Thanks :)
Brett Rattey, Apr 2015
Brilliant stay. Amazing property, immaculate presentation and amazing views. Wonderful hosts and lovely touch with the breakfast being delivered.
Malcolm Lawry, Feb 2015
The property was very well presented and spacious for two people.
Chloe Davidson, Dec 2014
Beautiful location, well kept, high-quality suite.
Greg Bond, Jan 2014
Location, bath, privacy.
Karen Smith, Jan 2014
Fantastic spot and wonderful hospitality. We were made to feel most welcome but also given total privacy. We will definitely be back.
Karen Smith, Dec 2013
Here's what guests say about our premium Waiheke accommodation:
"Great place to stay for a weekend getaway. Great views, spa on the deck and in walking distance to the beach as well as the local town. Would stay again." Natasha Judson Nov 2017
"The place was very serene and very tidy bach. Good for couples. Lovely touches of luxury reminds me of a hotel. 5 mins to everything. Awesome!" Michelle Allegre-Jones Nov 2017
"Well situated, fantastic views and close to some good walking tracks. Easy access to Oneroa too. Bach was slightly smaller than expected but everything else made up for it. It has a great feel to it and would definitely stay again." Paula Williams Nov 2017
"Lovely location overlooking ocean. Private, clean & comfortable. Nice place to stay." Cass Betts Oct 2017
"Richard was very helpful upon our arrival and before, telling us about places to visit on Waiheke. His recommendations were spot on! Absolutely loved this place. Was perfect for a romantic get away! Hope to return again!" Justin Simpson Oct 2017
"Absolutely stunning views, great little romantic hideaway"
Sarah Steele, Oct 2017
"This bach has everything you could want and need - gorgeous views of the sunset, spa on the deck, outdoor heater, bbq, kitchenette, big shower with great water pressure, there was nothing we could have wanted that wasn't there. We hope to come back again!"
Samantha Wallace, Sep 2017
"A truly spectacular location with breath-taking views that made for a magical weekend. The Bach is beautifully presented with all the creature comforts you could need. The only negative was having to leave!"
Aaron McCurdy, Sep 2017
"Richard was really nice to deal with, came and met us at the house and gave us some good recommendations on places to visit on our stay, really nice guy! Had a brilliant stay, such a nice view and really peaceful. Really nice place with everything you could ask for. The spa was the perfect temperature and really nice to relax in. We'll be back!" Rob Brown Aug 2018
"Great to deal with. Thank you so much for a wonderful stay in this cute little bach. We have had an absolute brilliant time. Ange." Ange Johns Aug 2017
"Fantastic communication. We had to reschedule the arrival time a couple of times with no issues at all. Great location with amazing view. Will defiantly be staying here again on our next visit." Alexei Gray-Bird Jul 2017
Easy to deal with, loved our weekend getaway at Bach on Burrell. Very nice and clean property, with everything you need for a home away from home.
Simone Jackson, Jul 2017
"Awesome place loved spa and quiet too.." Trish Legg May 2017
"Super easy to communicate with. Amazing as usual" Eamon Crowley Apr 2017
"So easy and straight forward. Any troubles I encounted online he had rectified with in 24hrs. His turn around times were more then acceptable.Such an amazing spot, the views are stunning. The property was so clean and well set out. Very nice spot, romantic, private, peaceful and relaxing. All in all we enjoyed the whole experience." Laurent L'eveille Mar 2017
"The Bach was beyond our expectations. very clean and had everything we needed. Location is excellent with spectacular views and close to Oneroa. Can highly recommend this Bach."
Chris Montgomery, Mar 2017
"Gave us great information and recommended Tantalus to us which turned out to be our favourite stop of our weekend." Anna Cullen Feb 2017
"Perfect mini getaway, thank you" Kirsten Sweeney Feb 2017
"Easy to deal with and very helpful" Katie Mortimer Feb 2017
"What a treat this gorgeous little place was, the most perfect spot, so romantic and the spa was the cherry on top at sunset. Can not rave enough about this stunning place." Sharon Palmieri Jan 2017
"My wife and I stayed here for a weekend of wine tasting. It's a beautiful place with a great view of a small bay. The view and hot tub were a great way to finish each day. " Andy Bruce Jan 2017
"This airbnb is secluded away from the bustling Waiheke Island in peak holiday time. It was a perfect opportunity to relax with all the doors open and relaxing with a wine on the verandah. The use of the BBQ was also great rather than to eat out every night. We stayed 3 nights and could have stayed longer."
Alison, Jan 2017
"Stylish batch with amazing view in a perfect location. Thanks for having us- would be more than happy to return one day!" Ulrike Drager Jan 2017
"Very peaceful place with amazing views. "
Nathalie Glaea, Jan 2017
"Fabulous Bach. Beautiful setting. Would definitely recommend staying here if you want a relaxing romantic break."
Sharon Stobart, Dec 2016
We had the best time staying at Bach on Burrell, weather was amazing. Location perfect. Bach was the perfect size for the two of us with everything we needed to make our stay comfortable.
Kaitlin, Nov 2016
"Beautiful and clean house with a great deck and outdoor setup. Communication with Richard was a breeze - will definitely try to stay here again in the future. "
Robert, Nov 2016
"Fantastic place to stay for a romantic weekend away! We loved the cosy cottage waking up to the beautiful views and sitting in the spa pool over looking the sunset each night! Highly recommend to all couples wanting a few nights away."
Joe Wernham, Nov 2016
"Had a wonderful and relaxing stay at the Bach on Burrell! The bach was very well-appointed and beautifully designed - we loved the location and the views! Easy walk to nearby cafes in Surfdale and rented ecycles to get around the island. Loved Waiheke Island and would definitely recommend the Bach on Burrell! The pictures accurately reflect the bach and Richard was very responsive and provided great recommendations! Thank you for a wonderful stay!"
Cori, Oct 2016
Beautiful view to wake up to in the morning. Clean and well maintained bach. Enjoyed our stay.
Srivalli, Oct 2016
The Bach on Burrell is so beautiful. Lovely view and everything you need. The spa pool is a bonus - overlooking the water. Very peaceful. Nice little details.
Anna Thorpe, Oct 2016
"Couldn't recommend this property enough. A perfect romantic getaway, the views from the bach are incredible, during the day and particularly on a starry night. Spa pool was perfect. Everything was first class. It was incredible to cook on the bbq after a long winter in Auckland. Oneroa and Surfdale (French hot for a good coffee) only a 10minute walk away, the locals are lovely, very friendly. We had the most magical weekend - Bach on Burrell you've set the bar very very high. Thank you."
Nuala McClinton, Sep 2016
"Great place with amazing views. Richard was a great host and knowledgeable about Waiheke. Highly recommend staying here."
Michelle Caroll, Sep 2016
"Perfect romantic getaway. Loved the spa."
Sarah Buckland, June 2016
"Truly amazing bach, the perfect setting for a weekend away for two, all amenities you need and the view from the spa is amazing. Close enough to walk to Oneroa so a car is not necessary. We will definitely be back for more!"
Eamon Crowther, May 2016
"Excellent batch. Perfect for couple. We took our car but could easily be used without a car."
Richard Jones, May 2016
"Very modern and well equipped. Nice location with beautiful views, Would highly recommend."
Nick, Apr 2016
Stunning views, very neat and clean, beautifully presented and decorated modern bach. A great view of water and evening sunset. Spa and BBQ was a bonus. Great for a weekend away in peace. Thanks from
Madhu and Vinod Pal, Apr 2016.
Outstanding property in immaculate condition. Really thoughtful and welcoming. Made our stay even more enjoyable having his insight into the area and things to do.
Alex, Apr 2016
Great wee spot with amazing views and a lovely spa, felt very relaxed and away from the world. We have already been recommending it to all our friends!
Natalie, Mar 2016
Beautiful bach overlooking the sea, great for a romantic break. The bach has been tastefully decorated, idyllic.
Emarais, Mar 2016
Absolutely beautiful views, very quiet location, lots of native birds in the surrounding trees. Lovely house, we'd certainly love to come back here.
Ali, Feb 2016
The bach is private and very peaceful, it's ultra modern and has beautiful decor. We loved spending time there and would thoroughly recommend the place to our friends.
Tracy, Feb 2016
Great spot with helpful, friendly service and it was clean and tidy. Thanks
Abby, Feb 2016
A very cute cottage with a simply spectacular view very close to everything you need. And a spa on the deck. What more could a couple want?
Andrew, Jan 2016
Private, peaceful, well appointed property to enjoy afternoon sun, evenings and sunsets on the deck with fabulous sea views. Booked this property mid-year and had been looking forward ever since, it did not disappoint. Ideal couples retreat-our little slice of paradise, would love to return.
Debbie Perry, Dec 2015
Both the place and the location were great! The views were amazing and the afternoon sun made it perfect to sit on the back porch and have a glass of wine! The trail down the hill out back made it a close walk to town for shopping and dinner as well. Would highly recommend staying here!
John Steven, Nov 2015
We loved the privacy of the bach and found the location really handy. Only took a few minutes to get to from the car ferry. Gorgeous views made relaxing a pleasure especially with the spa pool on the deck. We didn't do any cooking while there but everything was there if required including a BBQ. Over all we were very happy.
Raewyn, Nov 2015
The accommodation could not be better. We absolutely loved it and my husband said that it is by far the best accommodation we have ever stayed in, in all our travels. The view was spectacular, the interior of the house was perfect for 2 people, clean, neat, modern and really comfortable. Heating for the cold nights, BBQ with a view and a private Spa pool with a view. It truly was an incredible experience. We did not want to leave.
Lindi Boyd, NOv 2015
The property is very well set-up and the location is fantastic - west facing so it gets great evening sun. The only thing missing is an auxiliary cord to connect an ipod or phone to the stereo system. We will definitely stay again!
Nick Francis, Oct 2015
The photos really did not do this beautiful little slice of heaven justice, i would definitely recommend this place to friends and family and the view was spectacular.
Shelley Felise-Asomua, Sept 2015
Lovely to come back and enjoy this all again. Beautiful Waiheke Island bach, views, wine and food. All amazing and certainly worth crossing the Tasman for. If only we could do it more often.
With thanks Jim & Elizabeth, Brisbane, Aug 2015
Proximity to town was excellent via a private path to the beach it's a short picturesique walk. The property has everything that you could need with all mod cons and excellent layout for a couples weekend away. Sea views from the Spa.
Brad Man, Jul 2015
Gorgeous location and the bach was super cute, very clean, and had everything we needed. Great for a weekend away!
Stephanie Bennett, May 2015
Thank you so much for a gorgeous little visit. After a busy wedding it was great for us to finally relax. The spa pool was the best part especially with the beautiful surroundings. The DVD's was a nice little extra, too.
Mr and Mrs Timpson, Feb 2015
Hard to leave such a lovely part of the world!
Peter and Tina Duffy, Feb 2015
What a very clever and beautifully stylish gem. Wish we could pick it up and take it home with us!! Thanks for a wonderful break away.
Tony Waite, Jan 2015
Richard have us a great welcome to the property and provided friendly suggestions of great local places to try. Many thanks. We loved the bird song.
Scott Schneebeli, Oct 2014
Lovely property, great location! Perfect for a weekend getaway!
Simon Moseby, Aug 2014
Had the most AMAZING time. We willl be back for sure!
Alison Bourke, Mar 2014
Actual property even better than photos. Everything so clean and fresh. Totally private. Will definitely try to go and stay again.
Judith Corcoran, Feb 2014
Loved the peaceful surroundings. Beautiful view of water and sunset. Clean and very well decorated. Comfortable couch and bedding and a great large shower. The outdoor spa was a real treat as was the easy outdoor flow from the inside living area to outside deck for the morning coffee or late night drink! We had a fantastic weekend away and our first trip together leaving the kids in 8 years! (8 year old and 2 year old). We couldn't have picked a better place to relax! Thanks Bach on Burrell! :-)
Melanie Pero, Feb 2014
Awesome service, fabulois property! Will definitely be back!
Katie McAleese, Jan 2014
Beautiful bach with stunning views, we didn't want to leave!
Helen Morgan Oct 2013
This is a great property perfect for a couples retreat. Beautifully presented and appointed, although an oven would be great for those winter stays when the weather isn't suitable for barbecuing.
Janet Cowper, Sep 2013
Loved the Bach and the team did everything to make our stay perfect. Great to relax and recharge and will definitely be back.
Melissa Nelson, Aug, 2013
Immaculate little bach with stunning views. Lots of privacy yet in a central location - we thought this was the perfect spot for a weekend mini-break. Definitely will be staying there again!
Talei Wong, Apr 2013.
Just wonderful! Views were incredible!
Su Beresford, Apr 2013
Excellent Property. We would love, love, love to stay again. I highly recommend this property to anyone wanting a romantic, quiet getaway... which is also close to everything the island has to offer. I agree with the past review that the photos do not do this property justice, the views are amazing.
Lucy Allen, Mar 2013
Stunning views, was great watching the sunset from the spa, within walking distance to the Oneroa village and great wineries, just perfect!! Didnt want to leave, and would most definately go back!
Daniel Thorne, Feb 2013
Superb location; nice place and great views! Absolutely a great place to stay.
Walter Stein, Dec 2012
Great place to stay
Sarah Jarvis, Sep 2012
Amazing property, photos don't do it justice. If you are after a romantic place to chill out with your loved one this is the place to go.
brent la franchie, Sep 2012
An awesome and quiet place for the prefect getaway! Very happy with our stay!
Siu Langi, Aug 2012
Props to Richard for knowing instantly that we were Aucklanders haha! Took his advice and left the blinds open all weekend long. Bach on Burrell is a very unassuming property but when you walk in and take in the double deck and AMAZNG views, you realize you're going to have a perfect stay. Spa was incredible, loads of peace and quiet and great place to BBQ and just chillax. Thanks for a great stay, will try and make it back.
Mridula Narayan, Aug 2012
After reading all the reviews, we booked this bach for our first anniversary. It is as everyone says...the perfect romantic getaway. The interior is beautifully furnished and the view from the deck amazing. It's a great location and we took in a few walks nearby before soaking in the spa... a great way to end the day. Bach on Burell was far better than the honeymoon room we had when we married in Waiheke. Would definately go back.
Tracy Di-Cesare, May 2012
An amazing spot, beautiful place with lots of sunshine and privacy. Would definately go back there again. Photos dont do it justice.
Kerri Gorrett, Mar 2012
Stunning location & a perfect getaway for two!
Matt Kilkenny, Jan 2012
What a fanstastic little bach, perfect for a couples' getaway! Amazing views, really stylish interior, feels secluded but is quite convenient to shops etc
David, Jan 2011
Great place. Fantastic views.
David Whiting, Jan 2011
Excellent facilities, fantastic views privacy when you want as well as a friendly chat! Dinner and wine at Mudbrick amazing, great staff.
Monica Smith, Nov 2010
"Richard is very friendly to deal with and easily contactable if required. It was the perfect place for a relaxing catch up with friends.Gorgeous house with beautiful views. Really generous rooms with comfortable beds and nice linen. There are various places to go sit outside and relax as well. The kitchen is large with everything that you may want if you are self catering. The property is an easy 20 minutes walk to Oneroa, where there are plenty of cafes, restaurants, shops (incl groceries). There is a frequent bus service as well. I'd love to come back one day!" Inge Way Aug 2017
Fantastic accommodation and great hosts. Will be back.
Andrea Quinn, Jul 2017
"Amazing views and fantastic accommodation " Sophie Mellsop May 2017
"Great place to stay, lovely morning sitting on the deck in the sun. Would definitely stay again.." Mayzie and Phil Harris Apr 2017
"It was lovely to be meeted and greeted and shown a map of Waiheke and recommended places to go. The house was clean, modern and had everything we needed, also the view from the house was amazing. Nothing to improve on." Gemma Fielding Mar 2017
"This was the perfect location for a great weekend away. Views and layout of house are even better than the photos. We will definitely be back!" Chelsea Mitchell Feb 2017
"Awesome easy to deal with super friendly" Jess Massey Feb 2017
"Great quick communication and ease of stay. Felt welcomed and able to ask for anything." Kate Gumbrell Feb 2017
"Really friendly and easy to deal with. Will definitely try and come back". Ruth McFadyen Jan 2017
"Bayview Retreat has stunning views of Oneroa and the beach. It's just gorgeous. The house is very comfortable, and easily fits 8 adults into 4 bedrooms, 2 bathrooms. It has everything one would need (except for WiFi)! It's situated in a good location, only a short walk to Little Oneroa beach and general store. Oneroa township is a 30 minute walk approximately. We thoroughly enjoyed our stay. Thanks" Melanie Antcliffe Jan 2017
"Excellent location, lovely house, great view. An easy place to live in, bit of a walk to the beach & Oneroa but good exercise." Karen Clegg Jan 2017
"A lovely house with a spectacular view. Just a short walk through the bush to the beach, and the same distance again from the township. Everything was clean and tidy. The whole experience was great."
Karl Eagle, Oct 2016
"The house was lovely. Stayed with friends at the property and would love to take the kids back too. Thank-you!"
Hayley Thompson, Jun 2016
"Great property, exceeded our expectations, organising this stay went very smoothly, before, during and after. If we were to visit Waiheke again would love to return to this property."
Aneela Jeram, May 2016
Amazing views. Fantastic house. Great walking pathway to Little Oneroa close by."
Imogen Kennedy, Apr 2016
Fantastic property, amazing views, walkable to beach and the town. Perfect!
Rachel, Mar 2016
The place was perfect for our group of eight and was easy walking distance to the beaches and a wood fired pizza stand. The view from the lounge and deck was amazing. The property was nice and clean (thanks Richard!) and the rooms were lovely and quiet.
Sara, Mar 2016
If anything, I think that you undersell this property on your website. The views were actually breath taking and. It was clean and very well equipped. We would definitely book this property again.
Josephine, Jan 2016
The house was well furnished, in excellent condition, great view and outdoor area. Really enjoyed it.
John, Jan 2016
Great location, lots of space, great hygiene and amazing view. Perfect for sunsets and sunrises and saw many shooting stars late at night. Over all a very comfortable stay and felt incredibly welcomed by richard. Will definitely be staying here again at some point in the future. :)
Shruthi, Jan 2016
The house was very comfortable and clean. The views were amazing and only a short walk down to the beach. The property was very easy to get to on the bus from the wharf and having a convenience store close by was also handy.
Kalindhi, Nov 2016
If your wanting a property that ticks all boxes for a perfect holiday i can guarantee that Bayview retreat Oneroa is the one. This house is soaked in sunlight up a private driveway. The house captures all the amazing things of Waiheke with the panoramic views of the island from its large deck. The house is no less than 5 minutes from the main town square. It is a hidden gem on a beautiful island. Highly recommended.
Brandon Laws, Oct 2015
Had an absolutely wonderful stay..... Would highly recommend for couples
Jenna Hansen, Jul 2015
Beautiful bach that had everything we needed and more. The views were exceptional and plenty of space for the 9 of us. Good location for walking to Oneroa and exploring the rest of the island, buses leave regularly from a stop 10mins walk away.
Cheryl Newman, Jul 2015
Great place, fantastic view,
Anna Kate Speir, May 2015
Great customer experience will definitely return thank you. Perfect.
Deb Turton, Mar 2015
Wonderful views, comfortable beds, nice big towels and very good location in relation to Oneroa and only a short walk to the beach.
Sally Cruickshank, Mar 2015
The property is nicely presented with plenty of parking. Views are awesome, and fairly handy to the beach, an energetic short walk away.
Don Chapman, Mar 2015
Loved the property, stunning views, huge garden, very easy walk to Little Oneroa, wonderful place to stay and we wouldn't hesitate to stay again.
Laurie Gibbins, Feb 2015
Very comfortable house in good location. Clean with everything one needs for a great holiday. Thankyou!
Susan Nementzik, Jan 2014
Can't impress how wonderful this accommodation was. Spacious, clean and perfectly positioned, our needs were met in every way!!!Our Xmas BBQ lunch for 16 was managed with ease given the open plan facilities. The Balcony and views were wonderful. A perfect apartment for a perfect occasion!
Liz Garrigan, Dec 2014
The view, the rooms and furnishings and the locality made this a perfect house to rent for our larger group.
Jill Taylor, Nov 2014
Fantastic property with beautiful views. Great for a group as plenty of space. Highly recommended.
Brooke Lavery, Sep 2014
Lovely house with the most amazing views. My wife and I and her family stayed her. 8 people in total with plenty of space. Beautiful!
Miles Davis, Mar 2014
Lovely place, spacious, open and with beautiful views. Very clean.
Josephine van der Walle, Jul 2014
"Lovely roomy home, nicely furnished, great deck and views. Out of the way but easy to get to with your own vehicle" Jim Brooker Jan 2017
Stunning property hidden away from neighbours and any resemblence of city life - just what we were looking for. If you're after tranquility, spectacular views as well as a lovely house then this will be what you're looking for with everything you need. If you're into massages, then arrange for the local Day Spa to come visit and get a massage on the deck - unbeatable location and experience.
Sue Hart, Jan 2014
Great location and well set up for family activities. Would love to have stayed longer!
Pamela Wahlers, Mar 2015
Fantastic property and location - it was perfect for our weekend getaway. Rocky Bay is a little gem of a spot, and very quiet. Couldn't fault anything with the house, had everything we needed and was nice and clean - appreciated the inclusion of linen and towels.
Danielle Martin, Nov 2014
Lovely well kitted out Bach/holiday home. Very relaxing stay with nice seaviews across to Auckland and the Skytower. Use of bike and Kayak much appreciated. Would happily stay again.
Kenny Gallacher, April 2013
Great location with super facilities. Clean and welcoming with quality linen and utensils. Sporting enthusiasts well catered for.
Christine, May 2012
Great house and amenities. Close to Rocky bay beach. Perfect for us.
Betone, Dec 2011
A fabulous place.....home away from home. gorgeous views, lovely native birds, and total relaxation. exceeded our expectations, and excellent value for money. Manager very helpful and all together a very positive experience. thanks very much
Krisell, Nov 2011
A very pleasant stay, The Barn is very well equiped for spending good holidays ; thanks especially for the dingy , the children loved fishing in the bay . Yes we would like rent again this house in the future ! Q family from Tahiti.
Christine, Apr 2011
"This home is in a spectacular location with a great view of Onetangi beach and out across the Gulf. The home is spacious and as it appears in photographs. You may want to bring bottled drinking water with you. We had a great long weekend here. " Callum Jan 2017
"One of the most spectacular views I have ever seen. What a fabulous property, thank you."
Simon, Sep 2016
"Beautiful big house. Very clean. Had everything we needed for our girls weekend! Great stay" Allie Hogan Nov 2017
"A wonderful location in the heart of Waiheke that's walkable distance to the local markets, vineyards, breweries and beaches. We thoroughly enjoyed this beautiful home set amongst the bush with a wonderful outdoor living area with a pizza oven, which we used to make amazing pizzas. The local supermarket is a short walk or drive away so getting the ingredients for our pizzas (and buying local wine to go with) was easy. The dawn chorus here is wonderful due to the abundant bird life. The house spacious with lots of wonderful areas to relax. We were a family of seven and enjoyed spreading out as well as coming together around the dinner table and kitchen area. It's also close to wonderful wineries and the local market and beaches. Highly recommend."
Carolyn, Sep 2017
"Perfect for a large group. Really nice beds.....nice and homely."
Rachael Davenport, Sep 2017
"Great home, awesome location! We really enjoyed using the pizza oven for pizzas the first night, and a slow roasted lamb shoulder the next! Thanks for having us!" Chris Williamson Jul 2017
"This house was beyond amazing, despite horrendous weather over the weekend, my friends and I enjoyed our time. Spacious, private and gorgeous, host was amazing with communication and made sure we had everything. Would definitely stay at this Bach again. Thank you for the memories!!" Aisha Ade Jul 2017
"Well equipped, beautiful scenery, great communication. Fantastic outdoor areas at front and back that I feel a need to come back to in better weather! More than happy with my stay here, we went for my mother's 70th and it fitted the bill perfectly!" Pip Hawkes Jul 2017
"Thank-you! Great stay." Angela Crudd Jul 2017
"Lovely house. Gorgeous outdoor area...just wish it had of been summer! Thanks for having us, it's a great spot and I remember staying here a few years ago. " Michelle Woolley Jun 2017
"A beautiful character filled property with fantastic outdoor area. We loved the pizza oven - although we didn't cook it was a great outdoor fire, and loved the festive outdoor lighting. Very clean, beautifully presented and a pleasure to stay in." Marika Bevin-Jukes May 2017
"House was lovely both inside and out and perfect for a group. Using the pizza oven was a great way to spend an evening catching up. House was surrounded by trees and bird life. Fun going to Saturday am markets a short walk across mangroves." Ana Dernier May 2017
"Such a comfortable place with lots of areas depending on the weather, large kitchen/dining, covered deck, open deck, comfortable living room, all in such a tranquil setting." Kurt Mastrovich Apr 2017
"Nice big property, great for all the kids and pizza oven was fun to use"
Michael Sue, Apr 2017
"Easy to deal with and quick to answer any questions. I've used him before and will do in the future. Comes highly recommend" Jordan Leverifge Fen 2017
"Large and beautiful house, ideal for large families or groups travelling together. We had a good time using the pizza oven! The house is set in a quiet location, with beautiful garden and views." Wei Yii Jan 2017
"Fantastic place for a large family weekend, absolutely loved everything about it"
Sue McNutt, Nov 2016
We were an extended family group eleven in total with children 5- 10 years and it worked very well for us plenty of space clean and tidy and a short drive to Palm Beach.
Margaret Tomlinson, Jan 2015
It was a great place to stay for a big group. Very accommodating. We loved the wood fire pizza oven and the outdoor setting.
Elizabeth van Huenen, Dec 2014
The property had great atmosphere and great for large groups.
Jackie Conaghan, Nov 2014
Really great for large groups, it was perfect for our girls weekend as there are many options for indoor or outdoor spaces, covered or open. Having downstairs and the cute little studio also allows for plenty of room and privacy. Beds so comfortable & nice linen & towels. Awesome big outdoor table for entertaining. Would definitely love to stay here again! Thank you
Janet Keven, Nov 2014
Lovely house, really enjoyed our stay! Such a nice setting. Would definitely stay again. Loved the pizza oven.
Bryony Kapo, Sep 2014
House was amazing. A great weekend was had by all. The coffee left by Richard is still a talking point.
Dearbhaile Hurley, Apr 2014
Great property - plenty of space for large groups and variety for entertaining. The Pizza oven & kitchen and living areas very roomy. Decor was very tasteful. We all loved the awesome wooden bench top.
Cecilia Hurley, Mar 2014
A great "Home of Madness" - the perfect place for extended family weekend with ages ranging from 85 to teens. We had a great time cooking, eating and sampling wine and celebrating numerous family birthdays for the mad month of March. Thank you for making our family time special and enjoyable. We will have to find another reason to return soon.
ADDITIONALCOMMENT : Every thing was perfect - thank you Richard for your care and attention. Please thank the family whom own the property for their hospitality too. Kind regards
Cecilia & Family, Mar 2014
I stayed here with 9 friends, we had a fantastic time, its a great house for entertaining with the great pizza oven, large outdoor table and open plan kitchen. The beds were really comfortable and the house had a great feel to it. It wasn't walking distance too much but the buses on the island are easy enough to catch I would definitely stay here again
Michelle Honore, Mar 2014
It is sheltered; we were there during Cyclone Lusi and hardly noticed it except for the rain. Pizza oven great fun even if we couldn't get it to right temperature. We were a mixed family group (6 adults, two grandchildren) and it really worked well for us. Particularly liked the large family table and very well-equipped kitchen.
Bruce Ferguson, Mar 2014
Great hosts, great house! Casamatta is the perfect place for large or small groups to enjoy arestful and comfortable holiday on beautiful Waiheke. It has everything you need, as well as some fantastic extras. The pizza oven was a huge hit with us, as were ALL those cozy living spaces and super spacious kitchen where everyone could gather, have a drink and soak up the atmosphere. We will be back :) Thanks for having us!
Natalie Neuhauser, Jan 2014
Great house to relax with friends, especially the great outdoor area and Pizza Oven. Had a fantastic weekend and would definitely recommend this place.
Jamie Ritchie, Aug 2013
Thanks for a great few days with the family. Can you pass onto the owners our real appreciation of being able to share their house with our family. First time we have all been together for a couple of years and don't know when it will happen again so it was a magic time. The outdoor living and space of the property were key.
Trevor Taylor, Apr 2013
This house was incredible! We had an amazing weekend and wanted for nothing, the house is equipped with everything you might need. The rooms are gorgeous, and we loved all the little areas to enjoy the sun, relax, eat meals etc. We mastered the pizza oven without much trouble (a great source of pride) and just generally didn't ever want to leave! Highly recommended.
Willow Nov 2012
Great property, well maintained and perfect for our small wedding party. Pizza oven was great fun and pizzas were lovely. Spotlessly clean and felt really homely. Didn't want to leave. Property managers were pleasant, friendly and very helpful. Highly recommend Casamatta. Mark and Tracey (UK)
Tracey Cartwright, Apr 2012
Fab spot. Quiet and user friendly, yet very stylish as well. Great for groups.
Julie Anderson, Mar 2012
Fantastic property, loads of space, very well equipped kitchen - thanks for the champagne, mineral water and olives - and beautiful grounds (freshly grown lettuce and herbs - amazing!)! Bumbled our way into using the pizza oven - great fun, and awesome pizzas! Great place to retreat with friends. Thank you.
Lucy Riggall, Nov 2011
Had a lovely stay, really enjoyed ourselves. House is amazing! Would definitely stay again!
Sarah Nell, Mar 2011
"We had a fantastic time, thank you! Got out to a few wineries and the Dellows distillery and went for a drive around the island" Caity Lee Nov 2017
"We had a fantastic time, thank you! Got out to a few wineries and the Dellows distillery and went for a drive around the island" Caity Lee Nov 2017
"Great wee induction steer on great spots on the island. We have often been to Waiheke but Richard pointed out a few new treasures for us to find! - we followed a few of the recommendations and saw a few new sights --- given we are fairly seasoned island holidayers it was a welcome steer away from our normal spots!! Thanks!" Melanie Dooney Nov 2017
"We had a great long weekend. Tons of room for six adults and two kids, right on the beach. Lots of extras like the kayaks, e-bike and dinghy. Kitchen had everything. Would absolutely go back for this kind of family get together. Our family really enjoyed the stay Richard. Great space and location. Thanks, Glenn." Glenn Cunningham Oct 2017
Amazing location and the views were incredible! Richard is super friendly, the house is comfy and has all the amenities you'd need.
Louise, Sep 2017
"Absolutely lovely bach overlooking quiet bay perfect for swimming and kayaking. Even had a coffee machine. Would definitely come back." Orna McGinn Apr 2017
The host and ome were both wonderful. I would totally recommend this place to a friend and would love to return. Thanks for the great service Richard.
Kasey Mar 2017
"Amazing property, great location with outstanding views. Very roomy fitted in 7 adults and 2 babies comfortably. Having the Kayaks and E Bikes onsite a lovely bonus. Would definitely recommend this property. Richard answered communications promptly, he met us at the house to welcome us and explain Waiheke's attractions. Over all very happy with the entire booking process." John Riddler Mar 2017
"Richard was great and everything was smooth and easy for us to enjoy the property. Was great, we all wanted to stay longer" Chris Hamill Mar 2017
"The house is amazing. We had a great cooking in the kitchen. And the bed is superb. Also, we enjoyed the private beach so much. Neither too secluded nor too noisy. Perfect place for a large family! " Rachel Sheng Jan 2017
"Richard, we really enjoyed staying at Golden Sands on Waiheke Island. The view is beautiful, the location is great (we didn't realise how close to the beach it is!), the layout worked really well for us, and the house itself is very comfortable. Thanks again - we had a great weekend and hope to be able to return someday soon. Best regards. Bob" Robert Vitale Jan 2017
"This property is something special. It's location is simply outstanding with commanding views of the bay and the level of amenity provided is second to none. Having access to kayaks, electric bikes! just adds so much to the experience of Waiheke. Attention to detail such as the bbq tools, lighter and equipment laid out ready to use shows a real consideration to making the experience fantastic. Highly recommended. Thank you Richard and thank you Golden Sands!"
Chris jack, Nov 2016

Suited our family perfectly. Such a lovely outlook, must be awesome in summer. Everything we needed was there.
Barbara Knauf, Oct 2016
"Beautiful location & well looked after. Can't wait to come back."
Jeremy Gleye, Oct 2016
Totally Bitchen! Great spot.
Jeffrey, Mar 2016
Lovely open plan up and down living areas and right on the beach.
Louise Deakin, Nov 2015

Amazing house with beautiful views over the beach and everything you could hope for. The kitchen is very well equipped and the beds are comfortable. It's very clean and well maintained. We had a great stay here. Thank you!
Sona Jarosova, Sep 2015
Beautiful views from the balconies, warm home with a beautiful homely feel while still being an amazing modern home. We loved our weekend at Golden Sands. The bikes were awesome!
Raywin Rae, Aug 2015
Excellent location overlooking the beach which is a stone's throw away. House is lovley and in great condition, has everything you need for a weekend getaway. Just needs to be clearer in the description that bedroom 3 is an outside sleepout, not part of the main house :)
Kathryin Lee, Apr 2015
Fantastic property in a glorious setting. Well supplied in terms of equipment and so on - wish we could have had a week to try everything out!
Tooki Proctor, Mar 2015
Golden Sands is the ultimate Waiheke holiday home. It is luxurious, comfortable, has a very well equipped kitchen and the deck off the lounge is simply the best. You can sit on this deck all day long and watch the world go by. The views are simply stunning and you are so close to the water that you can hear the waves lapping against the shores of Sandy Bay. It is perfect for families, (the beach is super safe) and groups and is a very spacious well set out home. They have thought of everything for this beach home and we could not have had a more relaxing, invigorating, peaceful , happy holiday. I cannot speak more highly of this property to rent at anytime of year to enjoy this incredible part of Waiheke island. Downstairs can be used as a teenagers retreat leaving the upstairs for adults - everyone undisturbed and happy ! This really is an incredible home and well worth a visit. I am still dreaming about sitting on the deck and looking at the sea view ! Bliss.
Claire Morgan, Feb 2015
"We thoroughly enjoyed our stay at island panorama. The house was brilliantly kitted out with everything we needed for a relaxing few days. Sharonagh the host went the extra mile to assist with anything we needed." Stuart Kagan Jan 2017
"Richard and Sharonagh are brilliant at what they do. All communication was prompt and friendly. Sharonagh was lovely in person, gave us lots of tips for our trip to Waiheke and made us feel at home. Thank you! Island time is a fantastic bach! Beautifully decorated, instantly relaxing. The well equipped kitchen/living space at the back of the house opening out onto the deck and garden was a great place for the family to enjoy. Swinging in the hammock, kids playing on the grass, husband in the hot tub... bliss! The shed with scooters and outdoor games came in handy too. The living area at the front of the house was incredibly peaceful, perfect with a glass of wine at the end of the day!" Claire Mantague Nov 2017
"A wonderful place to spend some chilled time away. The view from the deck is stunning. "
Catherine Jan 2017
We just wanted to say a very big THANK YOU for the wonderful holiday on Waiheke at 42 Kiwi St - we loved it and had such a relaxing and enjoyable time. Please pass on our regards to the owners - we will be back! Eliza Walker Jan 2017
"Lovely cottage and sleep-out. Well equipped. Gorgeous views and easy access to Oneroa. We had a really nice stay."
Palxy Wish, May 2016
Beautiful house and the perfect location.
Sharon, Feb 2016
We enjoy our stay immensely. The batch has everything we needed. The fire place is lovely and we play heaps on the soccer table. The house is tastefully decorated and extremely confortable.
Patricia Santos, Aug 2015
The property was awesome, very clean and tidy. Would rent here again anyway. Awesome warm fire. Lots of space, lovely and clean! Great location -close to town. Would come here again any day.
Terrena Kelly, Jun 2015
The property was open plan with great light and views. It was very well appointed and tastefully decorated. We loved the fire!
Wendy Rowe, Jun 2015
Beautiful holiday home, much more than a bach, and lovely views. It's a couple of minutes' walk to Blackpool Beach, and 8 minutes' to Oneroa.
Anne Feeney, Apr 2015
A fantastic relaxing place to stay. Plenty of room for everyone and the view overlooking Blackpool Beach is lovely. Our favourite swimming beach was Little Oneroa at the end of the road, the food, wine and locals were fantastic. Would recommend this place to anyone, groups small or large. Thank you. Denise & Vince (UK) Jan, 2013
Kiwi View Cottage was even better than we imagined. The photos on the website are great but its even better in person. Fantastic price and amazing views. I (we) would highly recommend to anyone wanting a bach to relax in particularly if you are with a group as there is plenty of room.
Katyrn, Mar 2011
""Lovely views, great outdoor living space, comfy beds and great kitchen with all the stuff you need. Just a steep driveway to negotiate but nothing new for Waiheke. Thank you for supporting us for our stay ." Craig Waalkens Oct 2017
"This house was really nice. it suited our needs perfectly. the beds were comfy and catered for our family group. the views were the magnificent and it felt very cosy. richard was a great host with a surprise arrival gift to begin holiday".
Pauline, Sep 2017
"Thanks very much for the Bach and for the wine. It's a beautiful place and the views were amazing. Lovely house with awesome views, you can see Auckland in the distance! Nice outdoor areas for morning and evening sun. Walking distance to the beach. Richard was helpful and friendly. Great place to stay with a few family's or friends". Sarah Brown Jan 2017
"We had an amazing stay for 2 nights at Northern Beaches over the past weekend. The house was excellent, beds were very comfortable and kitchen well equipped. An awesome addition to the house was the hammock and outdoor furniture. Richard is incredibly friendly and helpful! Would love to stay here again in future! Thanks so much."
Eryn Walker, Nov 2016
"Great house, lots of room for everyone." Stunning views to the north, west and south.
Gareth Jew, Jun 2016
Very well equipped house, amazing views & was also very well laid out. Fantastic stay!
Louise, Feb 2016
It was a lovely weekend on Waiheke ! The batch was awesome, very clean with amazing sea view at both sides !
Gauchard Yoann, Feb 2015
Great Property. Stayed for family wedding. all enjoyed the stay and all the views. Everything was catered for. Even liked the drive. A very quiet place .
Mike Arbe, Dec 2014
Awesome property, great views, has everything you need!
Mandy Brown, Oct 2014
Had the possibility to spent a great weekend in a great house with an amazing view...I can't imagine anything better than that...
Hirschi Marco, Feb 2012
"Stunning views, short walk to Oneroa and easy walk to Cable Bay and Mudbrick. Handy to bus route too. Lots of space and very comfortable. We loved it.Thanks so much for a lovely weekend away. We hope to be back in the future" Alana Pearch Nov 2017
"Richard and Joan were wonderful to deal with and were extremely helpful. They were available to be called if necessary and we had to ring them once to get help with an appliance. We had a fabulous weekend. This property is exceptional. The photos on the web don't do it justice. The location was perfect for us being very easy walk to the restaurants and town and within easy reach of the wedding venue at Mud Brick winery. There is also a good taxi service. Highly recommend going to Oneroa for a holiday and this bach had everything and more" Jenny Steadman Oct 2017
We spent our 25th Wedding Anniversary at this property, what a wonderful surprise to walk into a home filled with beautiful welcoming ambiance, and to see the magnificent views from the property. Rated 10/10 and will definitely return. Debra Snyman, Sep 2017
"This property is a stunner. You walk into the house and just go 'WOW'. Huge expansive windows and stacker doors truly let you bring the outside in and t hat view is to die for. We only had 3 days there but would have loved a week just to spend meal times outside bbqing and entertaining & eating with friends & family. The house has 2 x Queen bedrooms so suits 2 couples or 4 women who don't mind sharing a bed. Would love to return."
Denise Snowdon, Mar 2017
"We absolutely loved our stay. The bach was even more stunning than in the photos which is a rarity. The view is spectacular, the furiture and decor was comfortable and modern and it had so many lovely little touches from the coffee bean grinder to the diffuser which made he place smell deightful. The location was perfect as it was right outside a bus stop but we didn't need to use this as it is walking distance to the town centre of Oneroa. We would definitely stay again." Susan Waugh Mar 2017
"The place is just beautiful and it was ideal for us as all we wanted to just stay indoor and do nothing.We had everything we needed to do that.Its centrally located and travelling with public transport was easy.Thank you so much." Abhishek Jaiswal Feb 2017
"The house was awesome and the view was awesome". Tony Denniston Feb 2017
"Fabulous property with beautiful views and within close proximity to Oneroa shops. Very good value for money." Alesha Gledhill Feb 2017
"The property was very cosy and it was in a great location. I booked it for my inlaws and they loved it! it was so easy for them to just stroll down to the shops and have everything handy for them without the need of a car! Would come back!"
Meizi Ho, Dec 2016
"The view is great and fully equipped and appointed. Couldn't have been better. Great location which is an easy 2 min walk into Oneroa.
Terence Duffy, Dec 2016
"We were here for attending our gay friends' wedding. It was a wonderful stay. Quiet neighbourhood, great ocean view, can even see thousands stars at night. Great location, Close to bars and restaurants. Thank you."
Garvin, Nov 2016
"What a great house. Amazing views. A 3 minutes walk to Oneroa township with all the excellent restaurants. We loved sitting on the deck and admiring the endless views. The gardens are beautiful as is the house. So much to do on this island. Would come back for a week next time! "
Sandra McCullagh, Nov 2016
"Stunning views, beautiful, comfortable and well equipped holiday home, exactly as described, perfect location just a short stroll down to the main street, shops and restaurants at Oneroa. Wouldnt hesitate to stay again! "
Carly Waide, Nov 2016
Beautiful house with a fantastic view in the perfect location.
Jeremy Randerson, Nov 2016
Beautiful home, prime position with an amazing view in a fantastic location. Loved staying here and would definatley consider staying here again for any future trips to Waiheke.
Michelle, Nov 2016
What a wonderful home in which to stay. Stunning views and wonderful hosts. Everything perfect, thankyou.
Jane Lyle, Mar 2016
2nd year in a row and it still does not dissapoint. thank you so much.
Andrew, Mar 2016
Awesome place, prime position, great view and all the amenities you could ever need.
Greg, Mar 2016
The location is perfect, the property simply exceeds expectations. Classes above the average:) Starting from clean, tidy neat--also spacious, equipped wit all that is needed and more --and then furnished with taste, elegant, a pleasure and a privilege to be a guest.
Krassie, Jan 2016
Beautiful spot. Very relaxing.
Lucy Ginders, Dec 2015
Wow. Homely and comfy !!
Hawthornes, Nov 2015
Beautiful view, well-equipped bach and really well-located.
Alex Douglas-Jones, Nov 2015
This property is beautifully looked after, spotlessly clean and organized. It had everything we needed and more. Fabulous views and the location was perfect for us. Easy walk to the shops and beach. The owners were lovely to deal with and I would certainly recommend this property.
Annette Forrest, Nov 2015
Great Stay. Excellent property and location it was superb. Many thanks.
Julia Dawson, Nov 2015
What a fantastic view and house!! Thank you, we will be back.
Dresner family, Oct 2015
Location to Oneroa village and ferry terminal was excellent. House was fabulous with wonderful views which would be a major drawcard to this place, but the house was very clean, very spacious, very quiet, very homely and had all the amenities and more that we needed. The owners, Hugh & Joan were most welcoming and a lovely couple whose company we enjoyed on arrival. If visiting Waiheke again, we would most definitely stay here again.
Gill Dyer, Apr 2015

Nice view, tidy house and good location which is near of the downtown.
Abdullah Alharkan Apr 2015
Absolutely perfect!! Amazing view, lovely home with extras, comfortable beds, within easy walking distance to the beach and shops. Would stay again definitely!!
Sheryl Geddes, Mar 2015
Everything we could need was supplied - along with piano, games, lovely coffee table books, BBQ. Two double bedrooms. Magnificent view of Oneroa Bay and very easy walking distance to village. Ideal spot for a stay on Waiheke Island.Robin McCullough, Mar 2015
Lovely modern home with amazing views and everything we needed for a very relaxing weekend away for my fiancé's birthday. Would definitely stay here again :)
Kylie Bracey, Nov 2014
A great place to celebrate our wedding aniversary. awesome spot.
Robert Hadegen, Nov 2014
The house is in a great location awesome views very comfortable able to walk to shops and cafes which we loved. Would stay there again. Lovely home great decor.
Glenys Hodgson, Nov 2014
Gorgeous view, all the mod cons you could hope for and close enough to walk to Oneroa but also escape to tranquility! Loved our stay!!!!
Jane James, Oct 2014
A perfect spot to get together and relax in magnificant surroundings.
Josophine Dodd, Apr 2014
Another stay at Oneroa Vista - just as fabulous as the last time ! The house is just wonderful, with stunning views, beautifully appointed, with everything you could possibly need for a magical Waiheke Weekend. Very sad to leave, and planning the next visit already :)
Alex Stuart, Mar 2014
Amazing place and amazing views. Friendly owners who met us the first day.Will be the first place I will look to stay in next time I come to the Island.
Matt van Geest, Dec 2013
Walking through the front door you're greeted with an outlook over the bay which is absolutely stunning! A nice quiet property also really handy with a short walk to Oneroa village.
Chad Kelly, Nov 2013
Fantastic view, close to everything, nicely presented and well equipped.
Teresa Donnelly, Nov 2013
Absolutely superb in all respects. Would like return soon.
Noelene Divehall, Nov 2013
This is truly a wonderful house, beautifully laid out, with a lovely relaxed feel to it, and the views are just amazing - it was hard to leave it to go and explore the island, which was the whole idea ! Everything you could possibly wish for provided, so tastefully done and absolutely immaculately and lovingly looked after by our very welcoming hosts. We loved our weekend here - sadly not long enough, but we will definately be back.
Alex, October 2013
This was a lovely house - even better than we expected. The views were spectacular! Such a delight to wake up to. We were so close to Oneroa village - and yet so quiet. Lovely to be able to walk down quickly for our morning coffee fix. The house was very well equipped - the kitchen especially so. Sharp knives, great quality saucepans, and more than you could want in terms of glasses, crockery, platters etc. Just like borrowing a good friend's home for the weekend. Thanks to Joan who made up all feel so welcome. When we come back to Waiheke (which we will) - we'll be booking your place again! Thanks again.
Tina and Erik, June 2013
A very nice and comfortable property. We all enjoyed the views from the back and that of Waiheke. All in all an enjoyable holiday and may entice us back for another look.
Trevor Harris, June 2013.


The stunning views over Oneroa from most main areas of the house were superb. The large living area flowing to the kitchen and dining area made for easy relaxed living. Great sized kitchen which was very well stocked with plates and mugs. Easy walking to the shops and restaurants at night. A suggestion would be wall mirrors in the bedrooms as with two couples sharing the house, when the bathroom was in use there was no other mirror available. Also more teaspoons in the drawers would be helpful.
Carolyn Shapcott, Apr 2013.
The bach was really beautiful and the hosts made every effort to make our stay fantastic. I would definitely recommend this property! If you want a lovely house with fantastic views, this is the place.
Laura Fogg, Jul 2012
Beautiful property! Great view! Even better than the photos show. Very tidy.
Daniel, Jul 2012
Our stay at Oneroa Vista was absolutely fantastic. The house is IMMACULATE and extremely well laid out. Everything you could possibly need is provided, and the views over Oneroa Bay are just stunning! A beautifully maintained and presented property.
Stuart, Apr 2012
Great house, well set up. Superb views and location.
Peter, Jan 2012
"Richard answered any queries promptly and organised cots for our stay which were ready for us on arrival. We were greeted on arrival and given a delicious Waiheki Island bottle of wine. We loved our family holiday and your lodge was perfect for our large family." Athlene Duffy Oct 2017
"Very friendly and helpful. Gave us a map with lots of helpful tips of where to go etc!. Thankyou Great place to stay for a big group of friends. We had a great time" Megan Ireton Oct 2017
"We thoroughly enjoyed our stay. Such a beautiful home with a beautiful view. We loved everything about our stay. So close to the beach and playground for the children. 10 min drive from the ferry wharf if you're coming from Auckland. 5mins drive to the supermarket Countdown. Thank you for making our visit a memorable one. Would definitely book here again. Thank you Richard and Sharonagh for being such awesome hosts." Sophia Tipi Jul 2017
"Richard was available, communicative and responsive to my questions. Modifications were made to the sleeping arrangements which made a big difference to our comfort. For our group of 10 workmates on conference and team building this property was perfect." Bob Smith Jul 2017
"We rented several properties to house guests to a wedding. Richard and his staff were excellent to deal with. He was helpful while we looked at properties and decided which to rent, and then when something went a little wrong at one property his staff got it sorted promptly and with good humour. Excellent property for a large group - we had 17 people staying there and then hosted an after wedding brunch for about 60 people there. Everyone staying there, and visiting, loved the property for its view and location." Bryce and Jill Whitcher Jan 2017
Seriously! This is the place to stay! The views, the location and the hosts. Everything was easy and RICHARD and his team were very quick and friendly in their communication. Very reasonable price for the location and views. Thanks again Richard Martin Leuenberger Jan 2017
Absolutely great views. Large bedrooms, large launch/kitchen/dining area in the second from top unit: this would have been a possible indoor wedding venue, but weather was splendid for the beach wedding - nice to walk down from the house. Very nice to have friends together before and after reception.
Jatin Puri, Dec 2016
"Amazing place which suited our large group perfectly, beautiful bedrooms and bathrooms with a view to die for. Soft fluffy towels, crisp white linen. ....ticked all the boxs!"
Alison Webby, Nov 2016
We had hired the entire group of units! It was a special weekend for us as a wedding with many memories and our stay at Palm Beach Lodge was key to that. Thanks heaps ""View, Size, second time there and just the best setup for large accommodation i.e. for groups I have seen on the island!
Ben Richmond, Sep 2016
"We rented all 4 apartments at the property for 8 adults and loved the size of the bedrooms with the most stunning views. It was an awesome place to stay. The only slight negatives are the driveway is quite steep for parking and the walk down to the lower 2 apartments is also a little steep. Fine for any able bodied adults/children. Entirely offset by the stunning views from every window that looked down onto Palm Beach. Will definitely be back again."
Jacqui Williams, Jun 2016
Pros: A great property to share with 2-3 families. The rooms are very large. Superb location and amazing views. Short walk to the beach and playground. Clean and quality linens. Cons: We were not aware that the property is divided into 3 self contained apartments but it ended up working out ok. The overall feel was not as polished as expected form the photos and some fittings are getting a bit tired and need attention. The kitchen was not as well stocked as we usually see in holiday listings.
Senta Hoyte, Apr 2016
A gorgeous property - was such a perfect holiday!
Aimee, April 2016
"Brilliant - we were so thrilled with the property and the excellent communication from Richard! Thank you.""A gorgeous property - was such a perfect holiday!"
Aimee MacMillan, April, 2016
Great setup for a large group. Fantastic views from all rooms. Good place for a relaxing weekend.
Margaret, Mar 2016
Huge place. Stunning views. Remarkable property. 10/10 would recommend
Karthigan, Mar 2016
"Really enjoyed the location and view and the house is really big with plenty of room for entertainment" Andrew Malcolm Oct 2017
"Great views from the deck, really spacious property"
Chris McDowell, Sep 2017
"Richard met my friends on arrival as was very informative about activities and things to do on the island. The house was much more than we could have asked for, beautiful views, all household supplies provided, opening living and easily catered for our 10 people (a few rooms shared but when does that matter between friends). I would definitely recommended to others and many of my friends were asking how to book again." Penny Howard Aug 2017
"Very accommodating thanks for tips and advice. Short walk to the bus. Great living room area for big families. Would stay again." Iona Breinhorst Jul 2017
"Extremely helpful and accommodating, nothing was too much trouble. Wonderful position and close proximity to everything" Peter Kerr Jun 2017
"Had a lovely stay! Was perfect for our bridal party so they could all stay together. Thank you for everything :) Large house with everything you could need. Close to the beach and public transport" Dana Sutherland Mar 2017
"Incredible place to stay. Super spacious and incredible views. Made for a perfect getaway with friends and close to a beautiful beach. Will be coming back in the future. Thank you. " Joey Hickman Mar 2017
"The place was absolutely perfect :) Great views, spacious areas for our big group. We all had a ball. Thank you for having us". Lisa Topless Feb 2017
"Amazing place with stunning views. Highly recommend!" Chanel Potaka Feb 2017
"Excellent property for a large group. Very tidy, nice layout and spacious lounge/dining area. Some beds are much smaller than others but it didn't take away from the fantastic house and holiday!"
Lydia Waelen, Jan 2017
"Easy communication and good service. Thanks Richard." Joanne Walker, Dec 2016
"Fantastic views of Palm Beach & great house for a family or group of friends."
Cam Larnder, Dec 2016
Great place and awesome location with a great view of Palm Beach. Place was very clean and everything was arranged for the extra guests including linen and bedding. Highly recommended place to stay for a weekend away.
Andrew, Nov 2016
"The view from the house was impressive and we arrived to an immaculate spacious house. Richard the host came and walked us through all the local info and we were spoiled for choice. Richard and the owner also went out their way to help with a family situation I had and I really appreciate that. The house would be great for entertaining a number of people (I did just that) or just for a relaxing weekend. Waiheke island is small enough that anywhere you go would be a short distance anyway. Highly recommend to other travellers."
Beatrix, Nov 2016
"Amazing amazing house!! Love everything about it .. Great views and everything is very local. Will defiantly be coming back to Waiheke and choosing this Bach. Lovely"
Ramneet Minhas, Jun 2016
The house was great for our family get together. As mentioned in another feedback you need to be aware that some of the beds are rollouts and sofa beds and sharing rooms. For tall adults some of these are a wee bit small. The house has lovely views and great living and deck area. Very clean and tidy and had everything we needed for our stay.
Ange Voschezang, May 2016
Amazing property - amazing views - amazing space. BBQ was brilliant, beds were top notch. All round a fantastic spot.
Spency, Mar 2016
Views were all amazing, and it was a short walk down to Palm Beach but the highlight had to be the insanely good tv and stereo system.
Farsheed Ibram, Feb 2015
Great location with wonderful views over the gulf. Need a car to get most places although Palm Beach bus close by. Two issues. We ran out of data so maybe a way for the tenant to purchase and pay for additional data from the ISP? Also although technically possible to sleep 12 people, 5 of those places were either roll out beds or couches in common areas with no privacy. Okay for kids sleeping in with their parents or in living room but not really for adults.
Paul Saunders, Mar 2015
Lovely views, clean and tidy property. Will stay here again.
Malena McQuade, Jan 2015
Beautiful house in a beautiful part of the country.
Jonny Stanley, Feb 2014
I booked for my whole family. They are a very fussy lot and hard to please. They all loved it, so I was very happy. They kept inviting the extended family over for cups of tea just to show it off. Next time the wider the family have to go away they all want to book houses instead of hotels like they did.
Carla Vincent, Feb 2014
Here for our daughter's wedding - perfect spot, loved every minute!!!
Marker Family, Feb 2014
Really fun, great view, very accommodating and close to everyhing! Loved it.
Mollie, Jan 2014
Roomy well equipped house. Breathtaking views. Family friendly, comfortably held ten with 6 of them teenagers. Highly recommended.
Emma Fox, Jan 2014
Beautiful house with AMAZING views. Really enjoyed our stay. Many thanks.
Adam and Rebecca, Dec 2013
We have had a great time here in "paradise". Loved everything about your house - the great facilities and awesome views. Viva Waiheke!!
Mavis Hunt, Mar 2013
Absolutely immaculate, what a beautiful spot you have here. Really enjoyed our stay & family time together. Thanks ;-)
Ray Meki, Mar 2013
A truely gorgeous spot of paradise. Amazing home and surroundings. Thank you for a great stay!
Sharleen Lind, Jan 2013
Each day spending my time in your wonderful house was another day in god's paradise. Quite a blessing for me to have the opportunity to saty where heaven seemed to have kissed the earth. Your house is truely a retreat-place where I could become calm and feel what is really important in life... Especially your magic garden. So thank you so much for providing this special, well equipped, luxurious space which I appreciated to the full!
Karin Erfurth, Jan 2013
Beatiful view! Great place to unwind with friends. Thanks for the sound system and the upstairs bed is so comfy!
Evie, Jan 2012
Fantastic, relaxing stay for Christmas get togehter, love the view and garden walk.
John and Shirley, Dec 2012
Beautiful place & very comfortable! Loved the view!
Eslaine M Cracken, Aug 2012
Very nice place, the view is great and the bed was really comfy!
Ann Horne, Aug 2012
"Super easy and very easy to deal with and excellent communication regards to getting access etc Fantastic, private and modern place for a couples getaway. Everything is super clean and well maintained. Private and the indoor / outdoor flow means in summer you can easy sunbathe or relax in the sun. Highly recommended for a couples weekend away". Mark Woods Oct 2017
Lovely well-kept property with gorgeous views. Lovely little touches included breakfast being provided and a bottle of bubbly and box of biscuits in the fridge to welcome us! Good location for exploring the island provided you have a car (as not walking distance to any shops or restaurants). Overall I would highly recommend.
Hannah, Jan 2016
We loved every minute of our stay. The Bach was modern, clean and tidy and the complimentary wine and chocolates were a nice surprise. The location was great and we'd definitely recommend it to anyone wanting a relaxing stay.
Alex Plank, Feb 2015
Awesome place on an island of NZ paradise! Highly recommend for anyone looking for peace and comfort. Thanks for a great stay!
Mark Smith, Nov 2013
We enjoyed our stay at the studio - it was a nice clean and well-equipped place. Would stay again and also recommend to other couples.
Sarah Seal, Oct 2013
A lovely spot to relax and enjoy the peace and quiet of the island - while being close enough to some lovely spots to visited and enjoyed. Made very welcome by the hosts and we appreciated the use of the garage to put our kayak trailer in out of the way during our visit. Would happily recommend this location to anyone looking for a cosy spot for two!
Robyn Denton, Apr 2013.
Cute place. Has everything you need and very nicely done out and well kept. Perfect base for exploring Waiheke.
Lucy- Jan 2012
Fantastic place. There was nothing that could have been better. The house was set up beyond expectation. We had a great relaxing stay. Thank you!
Nick Buttar, May 2011
A very convenient and well set up studio with very gracious hosts. Highly recommend.
Warren Wilson, 07 Mar 2011
Nicely appointed studio!
Raymond 25 Feb 2011
Very new, very cool, relaxing a surprise with the DVD library! A very enjoyable weekend!
Emmy van Middelaar, 05 Feb 2011,
Excellent for those who want to find a quiet spot.Very tidy studio. Well equipped, nice and private.
Hilary Emanuel, 29 Jan 2011
Great service and facilities at the studio. Lovely to meet the owners, who were very hospitable and friendly. Perfect for our wedding night. One small thing that would have been great to have would be robe Would highly recommend.
Marlena Hardjo, 14 Jan 2011
Very tasteful, private clean accommodation.
Susan 10 Jan 2011
The extra touches of wine & chocolates were very much appreciated.
Peter Keysers, 03 Jan 2011
Fabulous will definately use again! Everything was as described. Highly effective system.
Angelique Fris-Taylor, 17 Dec 2010
Very nice and have recommended it.We really enjoyed our stay at your studio unit, it was everything we could have wanted, modern, clean, private, quiet, fully equipped, outdoor area. Very nice and have recommended it friends.
Lyn and Adrian Poell, 31 Oct 2010
"Lovely"The studio was set in bush/type surroundings, beautifully appointed and spotlessly clean. We had every thing we needed…thoroughly enjoyed our stay there & would book it again.
John & Robyn Parker, 23 Jan 2010
Simply GREAT! the accommodation was lot more then we expected, it was clean, new, tidy and it had everything including pots and pants cutery plates you name it it was there! we could have lived there for years!
Eric Hwang, 29 Dec 2009
Lovely stay for a night of our honeymoon at the architects dream..... The property is hidden away on the road and from the outside looks like an overgrown plot. Once you get round the side onto the path it becomes a jungle paradise, truly a tent hidden in the jungle! The hot tub and fire pit are a lovely touch and enable you to enjoy the outdoor space. The inside is minimalist but so well done, with every weird (angled) space used, the bedroom at the front of the house is lovely. Cooker, washing machine, coffee machine etc all there and easy to use along with WiFi and an tablet! Definitely worth a stay if you can while available, really well situated for shops and the beach. Really excellent communication as well whilst booking and during our stay.
Andrew Cutler, Sep 2017
"Beautiful design no doubt. The location was great, just around the corner from the morning markets, bus stop was right outside. Spa was lovely, nice and secluded in the bush. insect repellent was provided which we loved! Christine Martin Apr 2017
"A unique property. Nice bush setting. Good location easy walk to beach, supermarket and bus stop close by." Caroline Chapman Apr 2017
"Magical private spot, handy to everywhere. Incredible building, will be back!" Lance Bellew Mar 2017
"Had an awesome time. Great place to stay - we loved it". Jen Ison Feb 2017
"Clear communication and waiting to let us in. Gave us full rundown on Waiheke.Gorgeous oasis right next to a bus stop. The spa was fantastic". Annie Millard. Dec 2016
"Beautiful property and the perfect retreat for a couple on a romantic trip to the island. Waking up to the view of native bush, soaking in the spa and sitting by the fire pit with a glass of vino are all highlights. Only drawback would be the house isn't overly friendly for us 6ft + folk. Stunning architecture comes with some compromises :)"
Jamie Dickens, Oct 2016
"The property is very different and a very cool place to spend the weekend."
P Churchman, Sep 2016
Great property and location! Especially loved the fire place and the spa - was really good that everything we needed to get a good fire going was provided."
Prianka Dhanapaul, Jun 2016
This house is an EXPERIENCE. Amazing at night, a beautiful triangle lit up in the bush, so cool to see when sitting in the spa with a glass of wine or hanging out at the fire pit. Amazing in the morning, waking up feeling you're in the bush, after sleeping in a cozy bed. Everything was pristine in cleanliness and completely lives up to the rave reviews in Elle Decor Italy, Urbis, etc. You won't want to leave.
Margaret Hubert, Jun 2016
"We had a great weekend staying here, highly recommend!"
Brooke Hannington, May 2016
A gem of a structure the spiral staircase was a challenge but worth it for the view from the comfy bed felt like sleeping in the trees. We were attending wedding so spent little time a the BACH so did not use the hot tub!
Roni, Mar 2016
"Richard was fantastic to deal with, easy to get hold of, responded quickly and efficiently. Nice big house perfect for large groups of people" Pip Llewellyn Oct 2017
"Fantastic set up for families. All of the facilities were clean and tidy. Great kitchen, the bedrooms were well set up and the games area down below was awesome. We would definitely recommend this property." Cherie Petrowski May 2017
"Great communication from Richard, the house was accurately described and a wonderful home. I would highly recommend this as a place to stay to anybody. Great location and a nice relaxing place to get away. Thank you Richard. We had a magical weekend spent with family and friends." Sam Baron Mar 2017
"Incredible Bach - very well equipped for a large group and we loved the spa pool. Perfectly situated for palm beach, and easy to hop on the bus to oneroa and onetangi. Will hopefully be back!" Alice Dunn Jan 2017
"Maire was a marvellous host- she was in touch via email well in advance of our arrival, and called the morning of. The house is huge, far larger than it appears in the photos, and was perfect for what we wanted- a comfortable, relaxed, and spacious house for our large group. The location is good too, central to Ostend and Palm Beach. "
Will Thomas, Jan 2017
"Amazing property, would book this again, great for a large group."
Greg Sewell, Nov 12016
"Absolutely wonderful! Divine place, that both my friends and I would certainly seek to rent again. It is visually appealing, set down a drive way in the bush. The place has been so well thought through in providing guests with a warm, welcoming stay, with lots of space. Owners were helpful when dealing directly with them, which we very much appreciated. Watch for mosquitos, even in winter. This place has the 'gush factor' it's so lovely!"
Caro McCourtie, Jun 2016
The house was in a great spot... 5 minute drive to the beach and a 10 minute drive to town. Tidy house and the spa was great. Mosquitos were out in full force being a house in the bush, but other than that a really enjoyable stay. The second night we shut the doors and windows at dusk and the problem went away.
Megal Henzell, Apr 2016
Lovely house hidden away in the gardens - perfect for group trips to Waiheke. Table tennis, hot tub and entertaining space is very relaxing. Bedrooms and bathrooms comfortable and convieneint. Highly recommended.
Laura, Feb 2016
Escape Waiheke is amazing. The bedrooms are sizeable and there are enough living spaces for groups of people to chill and hang out without crowding each other. The facilities are great, clean linen and towels; spa pool and entertainment area downstairs was great for our group. Very close to Palm Beach. Great deck and BBQ/entertaining area upstairs. We would love to stay again!
Amelia, Feg 2016
"Richard was great. Quick and easy communication. Everything ran smoothly. This house is amazing. Loved the heated indoor swimming pool and the spa. Amazing views! Great size for sleeping a large number of guests, plenty of space for everyone. Thoroughly enjoyed our stay. Highly recommended property. Can't wait to go back!" Harry Ellis Aug 2017
"A great property for a large group. I'd love to come back in a warmer month when we can enjoy the deck and outdoor spaces." Paul Gilchrist, Jul 2017
Do you have any questions about luxury Waiheke accommodation?
Please contact us if you need any help in selecting the perfect luxury Waiheke accommodation for your needs