Group accommodation on Waiheke Island
Are you looking for accommodation for large groups of 8 or more people? Perhaps you need group accommodation for a special event, such as a birthday, anniversary or wedding, or for a corporate event?
With numerous large, luxury homes, lodges and estates, Waiheke Island is a wonderful – and very scenic – venue for your event. Best of all, Waiheke Island is just 35 minutes from Auckland CBD by passenger ferry, or 5 minutes by helicopter. Your guests will feel relaxed as soon as they arrive on this stunning sub-tropical island!
To make the most of your large group accommodation, we can also help you organise any group activities. Wine and food tours are popular (and delicious); art lovers can enjoy sculpture parks and galleries; water lovers can take to the glittering Hauraki Gulf on yacht charters, cruises or stand-up paddleboards; and adrenaline junkies can get a buzz from state-of-the-art flying fox zip lines.
Or else you can just relax and bond at a luxurious holiday home and take in the views. The houses for group accommodation are so gorgeous you may want to spend all your time there!
Waiheke group accommodation in premium holiday homes
The following holiday homes can accommodate 8 or more guests. Click on a property to see more information and to book online: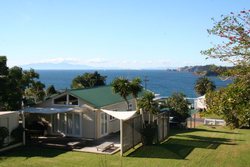 A Bach
Waikare Rd, Oneroa, Waiheke Island.
NZ$400 - NZ$540 per night
Guests: 4 - 8
Bathrooms: 1
Bedrooms: 4
Sea views, close to beach, shops bars and restaurants...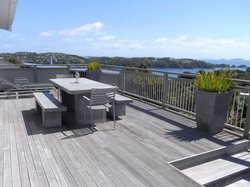 Bayview Retreat
Oneroa, Waiheke Island
NZ$545 - NZ$675 per night
Guests: 4 - 9
Bathrooms: 2
Bedrooms: 4
Great northern views. Plenty of sun. ...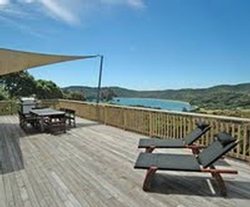 Baywatch Cottage
Whakanewha, Woodside Bay
NZ$350 - NZ$495 per night
Guests: 3 - 7
Bathrooms: 2
Bedrooms: 3
Seclusion, north facing, lots of sun great family holiday...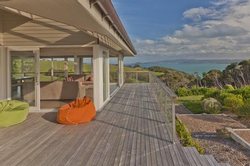 Baywatch Estate
Woodside Bay, Waiheke Island
NZ$2,700 - NZ$2,700 per night
Guests: 6 - 12
Bathrooms: 0
Bedrooms: 6
Arrive by helicopter for total privacy and luxury...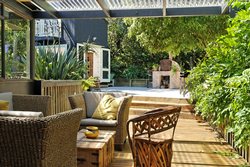 Casamatta Waiheke
Wilma Rd, Palm Beach
NZ$550 - NZ$700 per night
Guests: 5 - 11
Bathrooms: 2
Bedrooms: 4 - 5
Have fun with the family in this well appointed home...
Golden Sands
Sandy Bay
NZ$470 - NZ$695 per night
Guests: 3 - 8
Bathrooms: 2
Bedrooms: 3 - 4
Walk down the drive way on to the beach...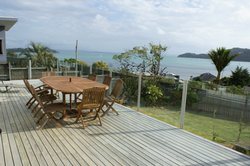 Kiwi View Cottage
Oneroa, Waiheke Island
NZ$275 - NZ$425 per night
Guests: 2 - 8
Bathrooms: 3
Bedrooms: 2 - 3
Sea views, sunsets, close to the beach and Oneroa....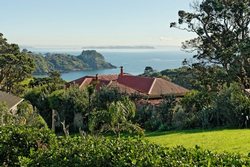 Northern Beaches
Palm Beach, Waiheke Island
NZ$545 - NZ$745 per night
Guests: 4 - 12
Bathrooms: 2
Bedrooms: 4
North facing, sea views, close to 2 beaches...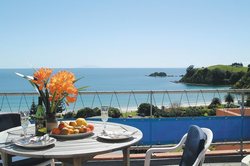 PALM BEACH LODGE
Palm Beach
NZ$1,100 - NZ$1,650 per night
Guests: 8 - 20
Bathrooms: 5
Bedrooms: 8
...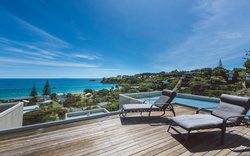 PALM BEACH LODGE - Totara Apartment
Palm Beach
NZ$575 - NZ$775 per night
Guests: 4 - 10
Bathrooms: 3
Bedrooms: 4
Stunning views...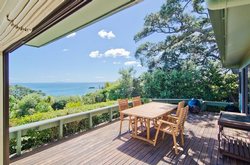 Palm Beach Retreat
Palm Beach, Waiheke Island
NZ$345 - NZ$500 per night
Guests: 3 - 13
Bathrooms: 2
Bedrooms: 3
Family rental home, great views...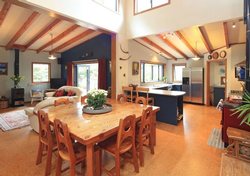 Waiheke Escape
Palm Beach, Waiheke Island
NZ$750 - NZ$795 per night
Guests: 5 - 12
Bathrooms: 2
Bedrooms: 5
Architecturally designed, spacious, 5-bedroom house ...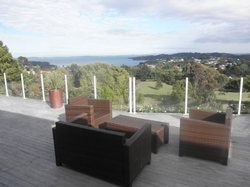 Waiheke Views
Palm Beach, Waiheke Island
NZ$1,150 - NZ$1,750 per night
Guests: 8 - 18
Bathrooms: 6
Bedrooms: 6 - 7
Great for family reunions, weddings, team building and or conferences...
Here's what guests say about Visit Waiheke's group accommodation:
"Great house to relax with friends, especially the great outdoor area and Pizza Oven. Had a fantastic weekend and would definitely recommend this place." - Jamie, Aug 213
"We were a group of 15 + 1 infant and stayed for 2 nights. The bach accommodated the whole party perfectly providing enough space for us all. Beautiful views and fantastic sun. Easily accessed by bus, with bus stop very close by. The walk up the driveway is a little steep, but nothing takes away from a fantastic property. Highly recommended." - Matthew, Jun 213
"Thanks for a great few days with the family. Can you pass onto the owners our real appreciation of being able to share their house with our family. First time we have all been together for a couple of years and don't know when it will happen again so it was a magic time. The outdoor living and space of the property were key." - Trevor, Apr 2013
"The property was exactly what we were after, clean, tidy and excellent location. We made good use of the BBQ and relaxed with the beautiful views. Will definitely use again." - Stephen, Jan 2013
"This house was incredible! We had an amazing weekend and wanted for nothing, the house is equipped with everything you might need. The rooms are gorgeous, and we loved all the little areas to enjoy the sun, relax, eat meals etc. We mastered the pizza oven without much trouble (a great source of pride) and just generally didn't ever want to leave! Highly recommended." - Willow, Nov 2012
"Great property, well maintained and perfect for our small wedding party. Pizza oven was great fun and pizzas were lovely. Spotlessly clean and felt really homely. Didn't want to leave. Property managers were pleasant, friendly and very helpful. Highly recommend Casamatta." - Tracey, Apr 2012
"Fab spot. Quiet and user friendly, yet very stylish as well. Great for groups." - Julie, Mar 2012
"We are a large family and the house gave us plenty of room. Especially the outside areas." - Kath, Jan 2012
"What an amazing amazing place, views sensational, house had everything you could need. It was the most wonderful place to spend a birthday with special friends, everyone commented how fantastic it was. Highly, highly recommended." - Sarah, Dec 2011
"Fantastic property, loads of space, very well equipped kitchen - thanks for the champagne, mineral water and olives - and beautiful grounds (freshly grown lettuce and herbs - amazing!)! Bumbled our way into using the pizza oven - great fun, and awesome pizzas! Great place to retreat with friends. Thank you." - Lucy, Nov 2011
"Fantastic large, tidy well furnished property with plenty of space for the extended family. The entire family loved it!" - Emma, Mar 2011
Do you need any help choosing the right group accommodation for your needs?
Please contact us if you need any help in selecting the perfect accommodation for groups, or would like us to organise some group activities for you. We'll be glad to help you.