Auckland wedding venues on Waiheke Island
Are you looking for the perfect setting for your big day? Waiheke Island offers what are arguably the most stunning Auckland wedding venues. Waiheke Island wedding venues offer backdrops of vineyards, white sand beaches or rolling green hills… your wedding photos will look stunning and create lasting memories.
Because many of the wedding venues are boutique, it means you can enjoy an intimate gathering at a very special location – and at a price that's affordable.
Or if you're looking for wedding venues in Auckland with lawn space for marquees, Waiheke Island has a number of venues and estates suited to large parties and events.
What's more, all of your wedding guests will feel like they're on vacation as soon as they arrive on this stunning island. Waiheke Island is just 35 minutes from Auckland CBD by passenger ferry, or 5 minutes by helicopter.
Waiheke wedding venues and wedding places
Click on a property to see more information and to book online: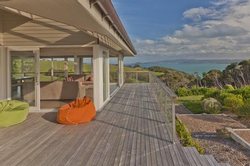 Baywatch Estate
Woodside Bay, Waiheke Island
NZ$2,700 - NZ$2,700 per night
Guests: 6 - 12
Bathrooms: 0
Bedrooms: 6
Arrive by helicopter for total privacy and luxury...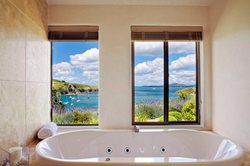 Kowhai Suite
Matiatia, Waiheke Island
NZ$395 - NZ$545 per night
Guests: 2
Bathrooms: 1
Bedrooms: 1
Quality B&B with sea views...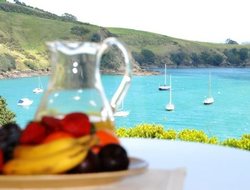 Pohutukawa Suite
Matiatia, Waiheke Island
NZ$395 - NZ$545 per night
Guests: 2
Bathrooms: 1
Bedrooms: 1
Enjoy the finer things in life, then this is for you...
Here's what guests say about Visit Waiheke's Auckland wedding venues:
What an amazing place. Thanks for providing a great venue for our wedding celebrations. We will be back.
Mark and Anna, Mar 2006.

The perfect rock-star pad for a fantastic time whilst organising a wedding!! Thank you, great space and views.
Leigh and Sue, Feb 2007.

Thank you for a fabulous start to our honeymoon and the gorgeous champagne. Lots and lots of love.
Jan Hill, Apr 2008.

Our (now) global family all gathered under this magnificent roof to celebrate our middle daughter's wedding in your home which has a real warmth to it. A precious time for us to be together in this truly unique place. Kind regards,
Amelia Jan, 2009.

A perfect venue for our wedding, friends and family to meet. What a calm and spectacular spot. Thank you.
Alex and Luke, Mar 2010

A great venue for a very happy wedding!! Guests from Australia and the UK. Loved the views. Doug, Nov 2010
Awesome views, awesome weather, awesome stay. Very good venue for celebrating the wedding of Mr and Mrs Visensang 21st Oct 2011. Thank you for sharing this awesome house with us.
Mr and Mrs Wong Nov 2011

What an amazing stay. The most perfect venue and home for our wedding. I love this house and I know we'll be back again in the future with friends and family. Thanks for creating such a beautiful house. If you ever want to sell the couches, call me !! P.S. Thanks Richard and Nique for being amazing help. We had the most beautiful time.
Mark and Robyn, Jan 2012

We love this house. Had an amazing wedding here yesterday, perfect Waiheke weather and a breath taking setting too! Thank you so much for making this property available. We waited 24 years to marry and love the great architecture, and being sailors, love the sea views. This house is the perfect combo.
Robbie and Robyn Mar 2013
Would you like some help in selecting the best wedding venue Waiheke has to offer?
Please contact us if you need any help in selecting the perfect Waiheke wedding venue, we'll be glad to help you find the perfect setting for your big day.